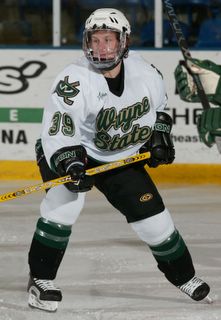 Adam Krug notched a goal and assist
for Wayne State on Saturday afternoon
(photo by Mark Hicks / Westside Photography)
Read Matt Mackinder's full game story at USCHO.com
PLYMOUTH, MICH-- The Wayne State Warriors (12-14-3, 5-7-3 CHA) snapped their season high 5-game losing skid as they skated to a 2-2 tie with the Niagara Purple Eagles at the Compuware Sports Arena on Saturday afternoon.

Warrior Freshman Adam Krug (9-4--13) grabbed the game's First Star with an assist on Steve Kovalchik's first goal and by scoring the game tying goal at 15:18 of the third period.

Barret Ehgoetz and Ryan Carrigan scored for the Eagles who are now winless in their last five contests.

The tie keeps the Warriors a scant one point ahead of the Eagles for third place in the CHA and 11 points behind first place Bemidji State.

The Warriors and Eagles share a 1-1-1 record through three games of their four-game regular season series.
WSU and NU will conclude their two game set with a 2:05 face-off back in Plymouth on Sunday afternoon.