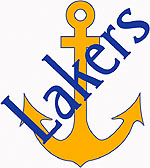 The Lake Superior State hockey team completed a solid recruiting class by reeling in eight student athletes to Sault Ste. Marie.

The list includes Sault Ste. Marie native Marty Gurnoe, a defenseman who helped lead the Soo Indians Junior A team to a national tournament appearance. In 49 regular-season games with the Indians, Gurnoe totaled two goals and five assists with 94 penalty minutes. He proved his real worth in the playoffs with two goals, both on the power-play, and one game-winner to go along with seven assists in only twelve games.

Joining Gunroe on the Laker blueline are signees Jason Miller, Matt Wheeler, and Chad Swartzentruber. Up front, LSSU will add Troy Schwab, Josh Sim, and Tom Knutson.

Goaltender Vince Wheeler will also join to team to add depth between the pipes.

Last season the Lakers completed a 9-22-7 overall record and an 8-14-6 mark in CCHA conference play.
LSSU will open the 2005-2006 season at home with an exhibition against York on October 10th and start the regular season against the Colgate Raiders at the Taffy Able Arena October 17th.

Please click here for the official LSSU Athletics Press Release.