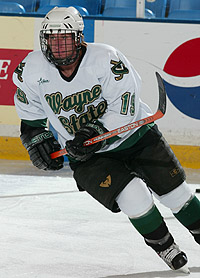 John May was tabbed CHA
Offensive Player of the Week

Photo Courtesy of Mark Hicks / Westside Photo
Wayne State
redshirt junior forward
John May
was named College Hockey America's Offensive Player of the Week after recording two goals and an assist in the Warriors' split at home against Bemidji State.
May assisted on the Warriors' lone goal in Monday's 3-1 loss to the Beavers and then scored a pair of goals in Tuesday's 6-4 victory. His goal with one second remaining in the second period proved to be the game-winner.
In his last three games, May, a walk-on last year, has scored three goals and five points and ranks second in the CHA with a .250 shooting percentage. On the season, the Livonia native has six goals and ten points in 11 games.
The award is May's first such honor.